We've decided to join in
Teachingtinytots' Reading Theme Challenges
. This week we read
Chicka Chicka Boom Boom
.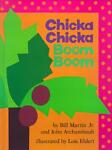 This was actually my first time reading it (in my memory anyways). Am loved it. I think this might end up on the x-mas list come winter.
I had originally planned to make some coconut ice cream only I then found out my ice cream maker requires lots of crushed ice or rock salt. So slight change of plans there. I whipped up this instead:
Boom Boom Smoothies


Ingredients:
2 Frozen Bananas
2 T Honey
Half a Mango, skinned & Chopped
1/4 c Heavy Cream
1 c Coconut Milk
1/2 c Orange Juice
Ice- enough for the texture you want
Candy Orange for garnish, optional
Directions:
Place ingredients into a blender. Puree until smooth, pour into glasses, add garnish and enjoy!